Stationary Compressor
LK series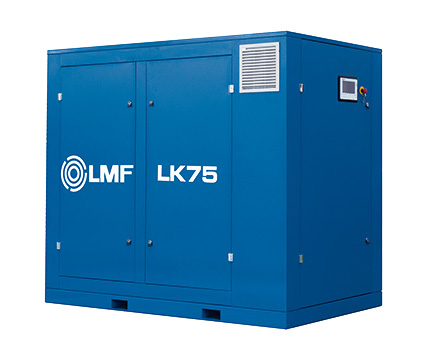 The LK series is a very impressive lineup of single stage direct driven rotary screw compressors which offer a quality compressed air solution for all medium and large industrial applications.
Models LK18.5 – LK400 direct drive
Note ** the 18.5kW is available as belt or direct drive
Optimized package design
Proven package design
High Flow Centrifugal Cooling Fans
Direct drive 1:1 ratio
Unique Airend Discharge Triple Bearing Design Concept from 45kW
Touch screen, high resolution compressor controller as Standard
High reliable & energy saving
Many years of innovation and selected supplier relationships provide our customers with products with proven reliability and quality assured.
High Performance Spare Parts
Purchasing alternative spare parts and lubricants for your LMF air compressor may result in high oil carryover, bearing and rotor varnishing and oil filter bypass, all of which may result in significant damage and costly downtime.
Integrated heat recovery
Our efficient integrated heat recovery system is able to recover 65% of the generated power used to produce compressed air. Simple and compact in design, it can provide a heat source for many applications; hot water for showers, radiators, boiler pre heat helping to reduce our Customers Carbon footprint.
Technical specifications
Motor power: 18.5 kW-400 kW
Air discharge: 2.5 m?/min-74.3 m?/min
Working pressure: 8 / 10 / 13 bar
Brochures