Stationary Compressor
Aftermarket Sales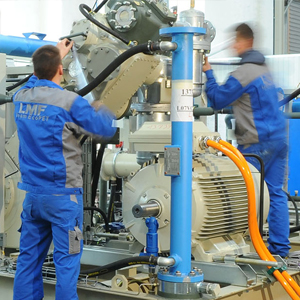 LMF Aftermarket
Maintaining an efficient and effective Aftermarket Business is a very important factor for Customer satisfaction and repeat business opportunities, LMF understands clearly the need to provide World Class Aftermarket Solutions.
Parts Inventory and Shipping
To provide World Class Product support LMFhas a number of strategic stocking warehouses to provide Distributors and Customers with Aftersales support. The warehouses can supply a constant flow of filters and lubricants to meet customer demand and are able to react quickly to support emergency breakdown situations.
Fulfilling orders on time is our number one goal in achieving customer satisfaction.
Aftermarket Business
A successful Aftermarket business is the cornerstone to future business oppurtunities. We will strive to satisfy our customers with professional and dedicated support to grow their business as well as ours.
Product Branding
Strong Aftermarket branding of parts, lubricants and accessories together with efficient distribution on a global scale, sends a strong message of sustainability in a business where copy parts are available in every corner of the globe.
Alternative parts are built to price not quality and can have a serious detrimental effect on product quality and performance.